DRAMA WAJIB ADA...
Koleksi wajib ada untuk peminat Kdrama..
Aku terjebak masa dah episod 6..
Pastu menyeksa jiwa nak tunggu Rabu - Khamis setiap minggu..
Dari segi BINTANG...
Drama ni aku bagi 5 1/2 bintang :)
Hero dengan heroin..
Hero nama Joo Jong Woon.. JJW
Heroin nama Tae Gong Shil... TGS

Genre drama ni..
Romantic comedy fantasy..

JJW adalah Presiden sebuah pusat membeli belah yang lengkap dengan Hotel..
KINGDOM..
Dia ni berperangai Mr. Arrogant..
Dalam kepala dia penuh dengan pemikiran nak untung besar je..

TGS pulak.. asalnya adalah seorang yang ceria.. cerdik..
Tapi selepas dia mengalami kemalangan jatuh gunung..
Dia koma bertahun-tahun..
Selepas bangkit dari koma..
Sesuatu yang luar biasa jadi kat dia..

DIA BOLEH TENGOK HANTU!!

Dan hantu selalunya akan datang minta tolong pada dia..
Oleh itu TGS sentiasa hidup dalam ketakutan..
Dia tak boleh nak kerja..
Tak boleh nak bersosial..
Hanya terperap dalam bilik..
Dan tolong hantu-hantu yang minta tolong pada dia..
Namun, satu benda ajaib telah berlaku..
Satu hari dia terserempak dengan JJW..
Bila dia tersentuh dengan dengan hero..
Hantu-hantu yang ikut dia serta merta hilang..
Jadi TGS rasa dia perlukan JJW untuk jadi pelindung dia..
Dia cuba dapatkan kerja di KINGDOM utk sentiasa dekat dengan JJW..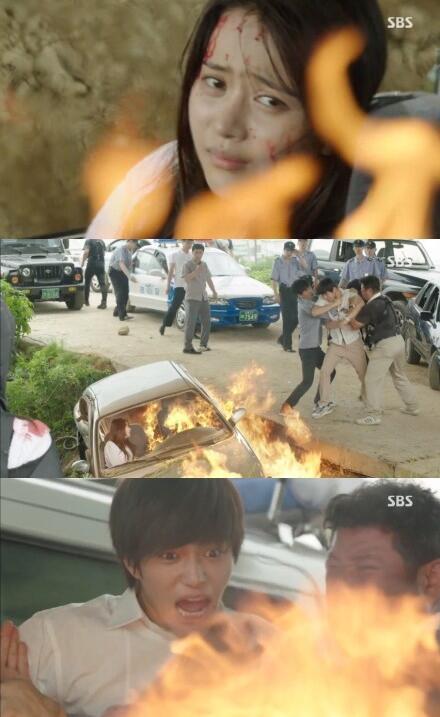 JJW ni ada peristiwa pahit yang berlaku masa dia remaja..
Dia dicolek oleh seseorang..
Dan ditebus dengan rantai berlian mak dia..
Bernilai 10 billion won..
Namun, masa dah lepas tu..
Makwe dia time tu mati dalam letupan kereta..

Oleh kerana terlalu trauma..
JJW hilang kebolehupayaan membaca..

TGS boleh nampak hantu kekasih lama JJW..
JJW rasa kekasih dia tu terlibat dalam pencolekkan dia..
Dan dia mahu hantu kekasihnya beritahu..
Di mana rantai berlian itu tersorok..
Dan siapa partner kekasih dia yg colek JJW..

Oleh sebab itu..
Bila tahu TGS boleh nampak dan berinteraksi dengan hantu..
JJW ambil TGS bekerja di samping dia..

Part yang paling best dalam drama ni..
Setiap minggu.. TGS dan JJW ni akan selesaikan 1 kes hantu..
Maknanya setiap episod akan ada jalan cerita yang berbeza..
Dan takde to be continued..
Kecuali citer pasal ex-gf JJW la..
Hat tu masuk episod 14-15 baru settle..

JJW yang mula2 tak percaya.. tak nak terlibat..
Sikit demi sikit.. mula bantu TGS..
Wpun dia nampak sangat arrogant (hehe tetiba pandai guna perkataan ni)
Tapi dia sangat-sangat ambil berat pada TGS
2nd hero... ni yg buat akak leleh..
Kang Woo..
Dia ni Chief Security dekat KINGDOM..
Dan merangkap jiran kepada TGS..

Dia suka gak heroin..
Memula heroin suka dia jugak..
Aku setuju sangat-sangat..

Kang Woo ni sebenarnya spy bagi pihak ayah JJW..
1st time jumap TGS.. dia dah jatuh suka..
TGS suka dia sbb dia gentleman..

Tapi..
Mana pernah 2nd hero berjaya dapat heroin..
Mesti laa dapat kat hero juga..
Oleh sebab hero ni dari kalangan kaya raya..
Memula tu ada juga ler tentangan keluarga dia..
Namun, dalam family JJW ni..
Takde sapa berani bangkang cakap dia..
Cumanya TGS rasa yang kehidupan dia bersama hantu..
Akhirnya akan menyusahkan JJW..
Ada sekali tu..
JJW hampir mati sebab tolong TGS..
AKHIR KATA
TAK TENGOK = RUGI :)
.
.
.