Ni drama yang penuh debar..
Kat Korea dah habis lama..
Kat M'sia.. mgu ni last..
Genre thriller & family..

Secara keseluruhannya...
Drama ni berkenaan seorang mak yang bertungkus lumus..
Nak elakkan anak dia dari mati dibunuh..
Heroin adalah seorang TV writer..
Untuk rancangan isu semasa..

Satu hari, anak perempuan dia telah diculik..
Oleh seorang pembunuh bersiri..
Anaknya akhirnya ditemui mati dibunuh..

Oleh kerana terlalu kecewa gagal nak selamatkan anak dia..
Maka, dia ambik keputusan untuk bunuh diri..
Dengan cara mati lemas..
Hero drama ni... Dong Chan..
Dia ni pulak sebenarnya dulu seorang polis..
Tapi selepas tu dia jadi private investigator..
Motif utama dia..
Nak bersihkan nama abang dia..
Yang dituduh membunuh bekas teman wanita dia..
Abang dia tu pulak ada masalah mental..

Dong Chan ni 1st jumpa heroin..
Time heroin nak bunuh diri..
Dia pulak hendak dibunuh oleh sekumpulan samseng..

Ikutkan..

Mereka sama-sama mati lemas..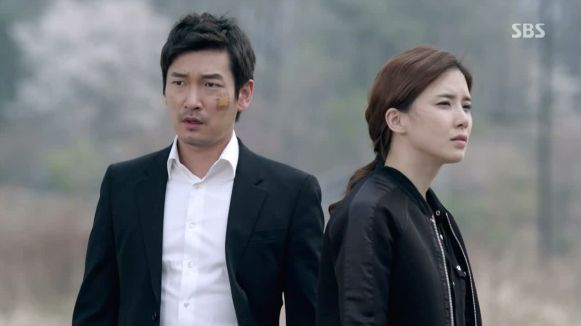 Ada keajaiban berlaku selepas tu..
Depa berdua ni tak mati..
Seolah2 diselamatkan..
Dan sedar semula di tepi tasik...

Yang peliknya..
Waktu sudah mengundur 14 hari kebelakang...

Oleh itu heroin ada masa 14 hari...
Nak selamatkan anak dia daripada dibunuh..
Dengan cara mencari pembunuh tersebut terlebih dahulu..
Dalam nak cari pembunuh sebenar tu..
Banyak pulak kes-kes lain yang ikut terbongkar..
Dalam masa 14 hari tu pun..
Banyak takdir2 yang berlaku sebelum tu..
Turut juga berlaku semula dalam masa 14 hari tersebut..
Anak heroin pun..
Akhirnya diculik jugak..
Oleh kerana Dong Chan ni je yg tahu pasal 14 hari patah balik tu..
Dia sama-sama tolong heroin..
Untuk cari pembunuh tersebut..
Dan selamatkan anak heroin..

Banyak perkara yang tak tersangka yang berlaku..
Termasuk laa orang2 yg rapat dengan heroin..
Paling tak sangka...
Suami heroin pun terlibat sama..
Suami heroin ni seorang peguam..
Seorang yang penyayang dan ayah yang baik..
Tapi.. dia ada simpan satu rahsia besar..
Nak tau.. kena tonton drama ni..
Ni pulak bekas kekasih heroin..
Dia seorang polis antara yang terbaik..
Heroin datang jumpa dia..
Dan minta dia bantu untuk halang penculikkan anak dia..

Walaupun dia tak percaya tentang 14 hari tersebut...
Tapi dia tolong juga..
Drama ni best sampai ke sudah..
Cumanya ending tergantung..
Kena fikir sendiri..
Apa kesudahannya..
Kim Soo-hyun is a mother whose young daughter Han Saet-byul gets kidnapped and murdered. Discovering a miraculous ability to go back in time exactly two weeks before the event, Soo-hyun is determined to expose the kidnapping plot and save her daughter before she dies all over again. Helping her is Ki Dong-chan, a former cop turned private investigator out to prove the innocence of his mentally challenged brother, who is falsely accused of murdering Dong-chan's ex-girlfriend. As Soo-hyun and Dong-chan race against the clock in the allotted 14 days, new light is shed on the crimes, and they uncover secrets far more treacherous than Soo-hyun could have ever imagined
.
.
.