WAJIB TENGOK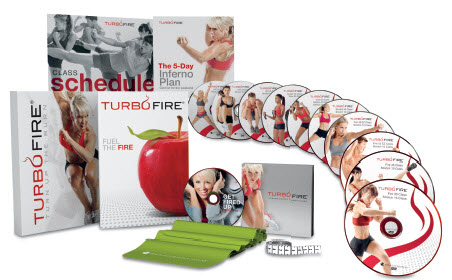 2 hari menghadap.. baru abih aku tengok TF ni..
Banyak setnya..
Tapi jangan risau..
Aku dah jadikan seminimum yang boleh..
Tinggal 6 keping :)
Bagi aku..
Turbo Fire ni sangat fun bila buat..
Instructor duk atas pentas..
Anak2 buah dia di bawah..
Cam Zumba Live..
Tapi.. kalau tanya aku.. mana best..
ZUMBA VS TURBO FIRE?
Aku pilih TURBO FIRE :)
TF ni.. boleh nak dikatakan..
70% daripadanya melompat..
Bila time stretching je tak melompat..
Memang BEST sangat untuk ditonton..
Tapi.. untuk dibuat...
TF ni bukan untuk beginner.. untuk yang dah biasa workout..
Tapi MUSIC dengan SOUND EFFECT nyer.. TERBAEKKKKK..

Siap kalau suh lompat tinggi2 tu..
Ada effect.. ZING!!!! ZING!!!!...
Secara tak lansung.. kalau ko tak suka nak melompat pun..
Terlompat sama :)

Persediaan sebelum buat..

Kome practise laa LOMPAT BINTANG hari2..
Agak2 boleh lompat 30 kali tanpa henti..
Boleh laa mula Turbo Fire ni :)
Stepnya banyak gabungan..
Ada cam dance step.. hip hop.. ada cam kick box..
Cardio workout..
Yang bestnya.. selepas buat pun..
Body akan terus membakar lemak wpun masa rehat..

Kalau cam Insanity tu lebih kepada nak shape & firm badan..
Tapi TF ni.. dari review yang aku baca..
Ramai yang lose weight lepas buat..
Ada yang kurang 40kg dalam masa 3 bulan
TurboFire Challenge Pack includes the following TurboFire workouts:
Fire Starter Workout
Low HIIT Workout (20 minute and 25 minutes)
Fire HIIT Workout (30 minute, 40 minute, 45 minute, 55 minute)
Extreme HIIT Workouts (15 minute, 20 minute, and 25 minute)
Advanced HIIT Workouts (30 minute, and 60 minute)
Sculpt 30 Workout
Tone 30 Workout
Core 20 Workout
Stretch Class (10 minutes)
Abs 10 Minute Class
Nutrition plan.. schedule apa bagai..
Aku akan emelkan..
SO,
APA TUNGGU LAGI :)
.
.
.